Regular price
Sale price
$38.81 USD
Unit price
per
Sale
Sold out
Overcome neck and shoulder tension or soothe painful cramps with this therapeutic heat pack made from eco-friendly, natural, sustainable materials which last.
Designed to particularly help with the sore neck and shoulders that come from stressful days or being hunched over whilst working-from-home, lum's adaptable heat pack can also be used to help ease aching muscles or cramps. 
You can choose to customise your heat pack with UK-grown lavender buds for an ultra-relaxing experience!
Activate the heat pack by gently warming for up to 2 minutes in a microwave - it will stay warm for around an hour. 
If you prefer cold therapy, store in the freezer and use as a cold compress!
Heat the person (not the room) this winter
Reducing our energy consumption is one of the key ways through which we can reduce our carbon footprint. With energy bills rising as we head into winter, it's never been more important to try and keep warm in a sustainable and efficient way. Your lum heat pack works like a traditional hot water bottle, helping you keep yourself warm without having to heat a whole flat or room with gas, electric or oil heating.
How to use

Relax and soothe your tense muscles by applying heat to boost circulation and blood flow to the affected area. Or reducce your heating bills by using a heat pack instead of central heating on chilly days!  Here are some instructions if using them for the first time: 

For heat therapy:

Ensure the microwave turntable is clearn and rotating for even temperature distribution. Place a small mug of water in the microwave with the heat pack to help keep it moist.
Microwave (800w) in 30-second increments for a maximum total of two minutes.
Remove from the microwave and apply to the afflicted area. 
Wait until completely cooled before re-heating. 

For cold therapy:

Place heat-pack in a freezer-proof container or sealable bag. 
Store in freezer for at least 30 minutes or until next desired use.
Remove from the freezer container/bag and apply to the afflicted area. 

Read more about the benefits of these heat packs over on the blog. 
Details

Handmade to order by Catriona in Edinburgh, Scotland
Approx
x /
Lum is thrilled to have been supported by 2050 Climate Group to develop this heat pack concept through their 2050x programme. 2050 Climate Group is a youth-led, volunteer-led charity which empowers young leaders to take climate action towards a just and sustainable society. 
View full details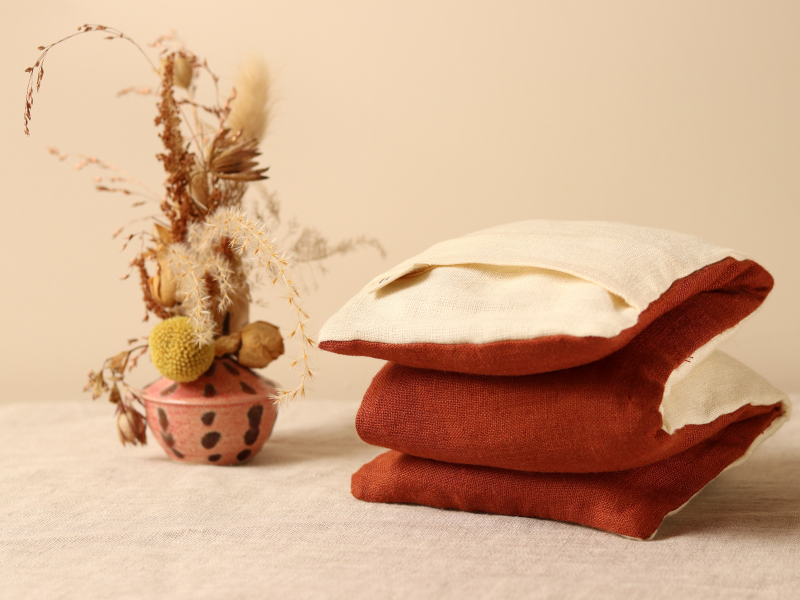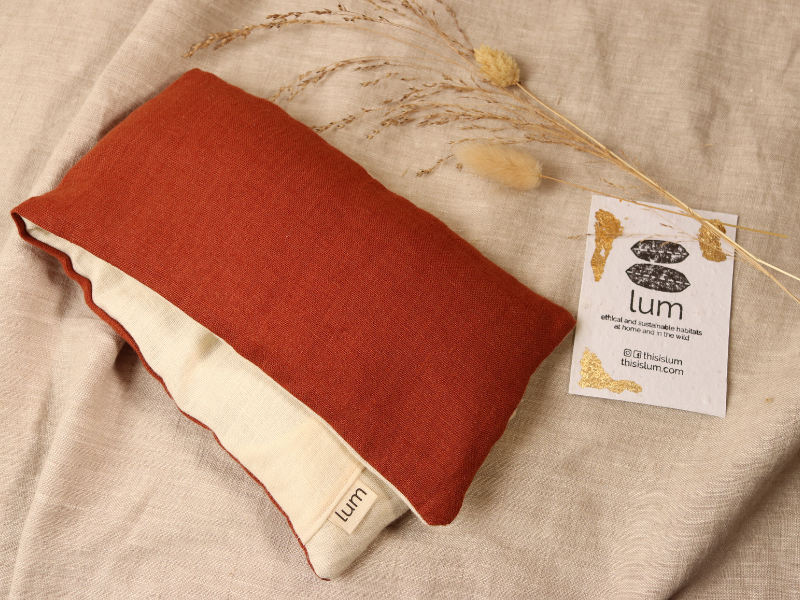 Inspired by the Red Squirrel
Red squirrels are an iconic Scottish animal, with their flashes of red among the treetops an exciting sight to see in the Scottish countryside. Up until the late 1800s, red squirrels were the only squirrel species in the UK, but following the introduction of grey squirrels from North America, and the continued fracturing of their forest habitat, they are now threatened with extinction within a few decades.